Breakfast:
Musli with milk (surprise!)
Orange juice
Lunch:
Chervil soup (I'd never thought you could make soup out of something akin to parsley – live and learn, they love it in Belgium!)
The usual three half sandwiches (spread cheese, sliced cheese, veggie salami – Delhaize brand)
Dinner:
Rice with spinach, raisins & pine nuts
Quorn cordon bleu
Snacks: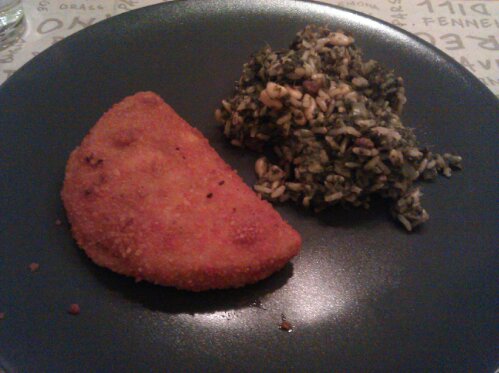 Bonus recipe:
Rice with spinach, raisins & pine nuts
 Ingredients:
125 gr whole grain rice
400 ml water
300 gr frozen spinach, thawed in the microwave, liquid removed but not squeezed dry
1 shallot, chopped
1/2 tsp garlic powder
1/2 tsp salt
2-3 tbsp raisins
1 tsp olive oil
2-3 tbsp pine nuts
Make it:
In the bowl of a rice cooker (or a stove top pot) put all ingredients except pine nuts. Cook until all liquid has been absorbed.
Before serving, heat a pan until very hot and dry roast the pine nuts for a minute or two, shaking often, being careful that they don't burn.
Mix pine nuts into rice, serve warm
Makes two side servings.