Another birthday, another cake!
A couple weeks ago I presented Jan with several options for his birthday cake, and of them he chose an apple & blackberry cake. Since we were going to be sharing with friends, one of them needs to eat gluten & lactose free, I went and adapted the original recipe. And here is my version.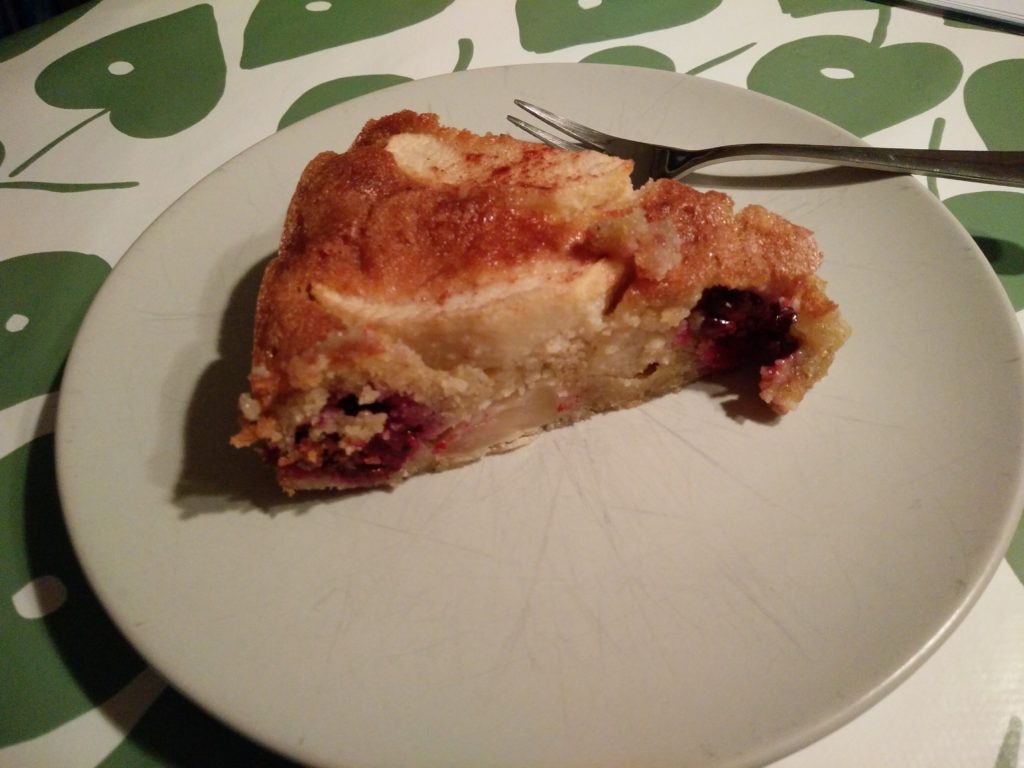 Ingredients
125 grams (refined) coconut oil1
125 gr (cane) sugar 2
3 eggs 3
1 tsp vanilla essence
50 grams ground almonds 4
50 grams oat flour 5
50 grams fine corn flour (not cornmeal, not cornstarch!)
1/2 tsp salt
3/4 tsp baking powder
2 apples
150 grams blackberries
2 tbsp cane sugar + 1 1/2 tsp cinnamon for topping
Instructions
Preheat oven to 170°C / 150°C if using convection. Line the bottom of a 20-22 cm spring form with baking paper.
Soften the coconut oil by either leaving it in a warm place or microwaving it at low power for 30-45 seconds. Add the sugar and mix until well combined and sugar starts to dissolve into the oil.
Add the eggs, one at a time, to the oil-sugar mixture, and mix well. Add the vanilla essence and mix.
Combine ground almonds, oat & corn flour, salt & baking powder in a bowl. Add to the oil-sugar-egg mixture slowly and mix until a smooth dough has formed.
Peel and core the apples, slice them in 12-14 pieces each. Separate 8 slices for decoration, and cut the rest in smaller pieces.
Add the apple pieces and most of the blackberries (leave 4 for decoration) and fold gently.
Pour the batter onto prepared spring form and spread (more or less) evenly. Decorate with the reserved apple slices and blackberries.
Mix sugar and cinnamon for topping and sprinkle on top of cake.
Bake cake in preheated oven, middle rack, for 50-55 minutes. A cake tester inserted in the middle will come out clean (albeit greasy) when cake is ready.
Loosen the edges of the cake with angled spatula / knife, let cool enough to remove cake from spring form and let cake cool on cooling rake.
Servings
8 servings
Notes