After a month of working in safety boots, my feet needed some TLC. And Groupon came to the rescue with an offer for a fish spa & pedicure not to far from me. So I bought it, and booked it. And then one Monday it was time to go to my first ever fishy pedicure. And where was this? At Beauty Studio Fauvelle, (also on facebook), in Eeklo.
I was received with a smile by Chloe, the owner, and directed to a nice private room, with low light, a comfy  chair, and my personal tank full of hungry fishies. After cleaning my feet with a nice warm moist towel, I got to immerse them and say hello to the fishes, that then went happily about their business of nomming my toes, I mean, sucking the dry skin from my feet. They did a great job of it! I also got a free coffee to enjoy while those little friends did their work.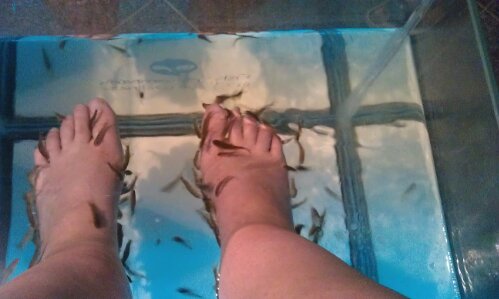 After 15 minutes of relaxing that passed rather fast, I slowly pulled my legs from the tank, and got them dry. We then went to another room, where the rest of my pedicure took place: filing whatever was left of dry skin, trimming & filing nails, nail polish and a nice foot massage with cream.
You can also can enjoy this, for the reasonable price of 40€ (35€ for fish spa and pedicure, 5€ for the nail polish). And she also has a fish spa for two, so you can go with your best friend!