Still at it!
Breakfasts:
Musli with milk
Orange juice
Lunch:
Open faced sammiches on day 4
Tomato based curry, with random veggies & quorn, and tandoori spices, on day 5 (bonus recipe)
Dinner:
Salad: pasta, sun dried tomatoes, lettuce mix,  apples, cherry tomatoes, walnut pieces and goat cheese, honey dressing (day 4)
Open faced sammiches (day 5)
Snacks:
Coffee, tea
Waffle
Chips (crisps)
Fruit
….
Tomato tandoori curry
Ingredients:
500 gr assorted sauteed veggies (I cook a big pot and portion it. It contains a mix of: garlic, onion, carrot, bell pepper, aubergine & courgette).
300 gr quorn pieces (it could also be made with lentils or beans)
2 heaping tsp tandoori spice mix (or to taste)
70 gr tomato puree (one small tin)
500 gr tomato pieces (from a tin)
1 dl water
165 ml coconut milk (one small tin)
1 tbsp  + 1 tsp olive oil, divided
240 gr basmati rice
600 ml water
1 flat tsp salt
Multitask:
In a 3l pot, heat up 1 tbsp olive oil. Once it's hot, add the quorn pieces and cook until slightly brown. Then add the vegetables and cook for a couple of minutes. Add the tandoori spices and stir through. Cook for a couple of minutes on medium heat.
Add the tomato paste and stir through. Cook it for a couple of minutes before adding the tomato pieces & 1 dl water. Bring to a boil. Add the coconut milk, stir and lower heat so that the curry simmers. Simmer for at least 15 minutes.
While the curry simmers, cook the rice. Put 1 tsp olive oil, 1 tsp salt, rice and 600 ml water in a 2l pot. Bring to a boil, lower heat so it just simmers, and let simmer, covered, until all water has been absorbed, about 10 minutes. Turn off the heat and let rest for 5 minutes before fluffing up with a fork.
Serve curry over rice.
Makes four servings. Curry freezes well on it's own (no rice).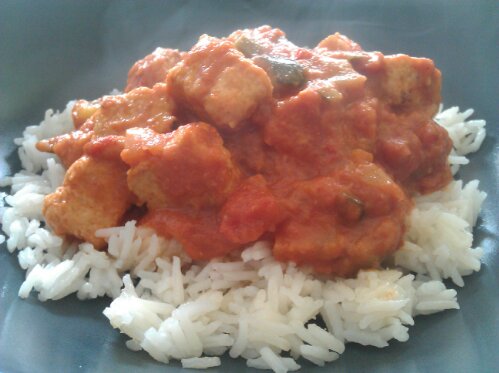 Extra bonus recipe:
Roasted root vegetable soup
 Ingredients:
1 onion, chopped
2 cloves garlic, peeled, whole
2 turnips, peeled, chopped
2 parsnips, peeled, chopped
2 carrots, peeled, chopped
1 yellow bell pepper, clean, chopped (remove the inner white nerves)
1 medium potato, peeled, chopped
3 tbsp olive oil
salt & pepper to taste
1,5-2 l vegetable broth
1 tbsp lemon juice
Make it:
Preheat oven to 200°C / 400F.
In an oven proof dish, mix all the vegetables with the olive oil, some salt and pepper. Roast in the oven for 45 mins, stirring half way through.
Once veggies are roasted, transfer to a big enough pot. Add 1,5l broth and simmer for 10 minutes. Blend soup until smooth (you might need to add more broth). Add lemon juice and adjust seasoning.
Serve hot!
Makes 6-8 servings.