Last night we had guests over, and so I went all out with the cooking skills. Because while I love cooking for the two of us, it's more fun when you can make more things and surprise people. The menu of the night was: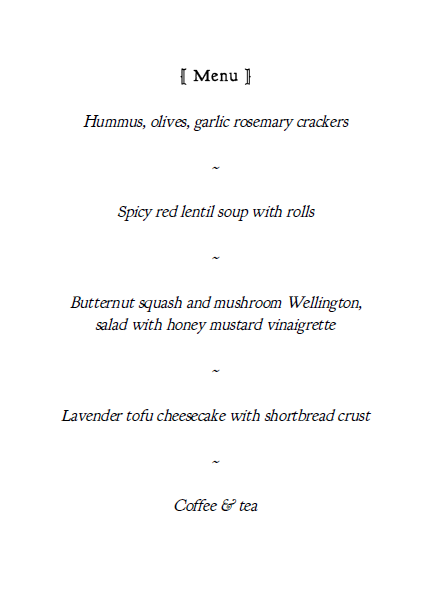 And today's recipe is the Lavender tofu cheesecake with shortbread crust. It is elaborate? Well, yes, it's a cheesecake. But at the same time it's easy if you just follow the steps. So get baking and enjoy the vegan deliciousness.
Ingredients:
For the shortbread crust:
1 cup (wholewheat) pastry flour

1/2 cup almonds
1/4 tsp salt
1/3 cup olive oil
1 tbsp maple syrup
2 tsp vanilla extract
1 tbsp water (if needed)
For the lavender tofu cheesecake:
1 cup almond milk

2 tsp + 2 tsp lavender
2 tsp lemon juice
500 gr (= 2 blocks) firm tofu
1 tbsp olive oil
3 tbsp agave syrup (*)
3 tbsp cane sugar syrup (*)
2 tbsp + 2 tsp cornstarch
(*) You can use both syrups, or just one, but make it 6 tbsp total. The cheesecake is not too sweet as it is!
Instructions:
Preheat oven to 180°C.
For the shortbread crust:
Place the flour, nuts, and salt in a food processor and blend until finely ground.
With the processor running on low speed, slowly add the oil, 

maple syrup, and vanilla (water if needed). Process for a few 

seconds to form a crumbly dough, then transfer to a 9-in 

spring form pan. Press the mixture evenly over the bottom and about 1/3 of the sides. Set aside.
For the lavender tofu cheesecake:
Bring almond milk to a simmer, add 2 tsp lavender, simmer for 5 

minutes and remove from heat. Let infuse until milk is cool, 

then strain. 

Add lemon juice to milk. It will thicken. Set aside. 

In food processor, mix tofu, oil and agave syrup until smooth. 

Sprinkle cornstarch on top and add the thickened soy milk. Blend until smooth. With a spatula, mix in the last 2 tsp lavender.
Pour tofu mixture over crust. Place on baking tray, just below the middle of the oven. Bake for 30 minutes. Lower temperature to 160°C and bake an additional 15-30 minutes, until set. Cover with foil if it browns too much.
Let cool completely before removing from form.
Servings: 8 servings
Nutritional information:
Calories: 325
Protein: 12 gr
Fat: 18 gr
Carbs: 27 gr