And all I can think of is pumpkin. Ok, not really, but there was some in my mind. So I bought one, and made a risotto and a soup with it. Recipes have been requested, and here they are.
Pumpkin Risotto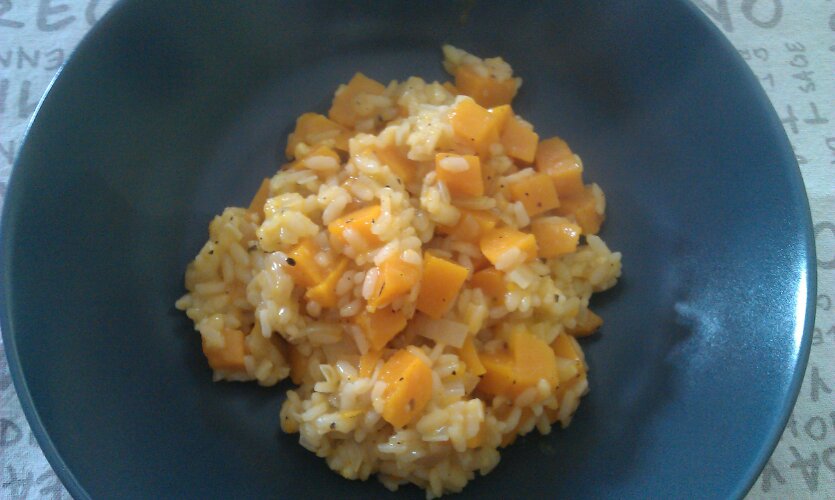 Ingredients:
2 tsp (~10 gr) olive oil
2 cloves of garlic, minced (or use a garlic press)
2 shallots (~100 gr) , peeled and chopped finely
400 gr pumpkin, in 1 cm cubes
1/2 tsp dry thyme
130 gr arborio rice
1/2 glass dry white wine
1 l veggie broth (from a cube, can, home made, I won't judge you), simmering
salt & pepper
50 gr parmesan cheese, for serving
Make it:
Bring broth to a simmer and keep it simmering.
Meanwhile, heat oil in a wide heavy bottomed pan (I prefer non-stick, requires less stirring). Add shallots & garlic and cook on medium heat until a tiny bit golden. Add the pumpkin & thyme and stir for a few minutes.
Add the rice to the pan, stir to cover all grains with the oil, about 1 minute. Add the wine, stir and let the rice absorb all of it. Then start adding the broth by the ladle, stirring after each addition, and let the rice simmer and absorb the broth before adding more. Keep doing this until rice still has a tiny bit of a bite left. It should take about 20 minutes,
Taste and adjust seasoning (salt & pepper).
Serve warm with cheese on top.
Serves: 2 as a main dish. (Approx.: 450 calories, 72 gr carbs, 12 gr fat, 15 gr protein each)
And the second recipe is
Pumpkin soup 
(no picture of this, sorry, just imagine a bowl full of pumpkin orange soup!)
Ingredients:
2 tsp oil
2 cloves garlic, roughly chopped
1 onion (~130 gr), roughly chopped
550 gr pumpkin, in 2-3 cm cubes.
1 l broth
2 tsp soy sauce
salt & pepper
Make it:
In your favourite soup pot, heat up the oil. Once hot, add the onion and garlic and cook until it starts to turn golden. Then add the pumpkin and cook a couple more minutes.
Cover pumpkin with broth, bring to a simmer, and let cook for 30 minutes.
Using an immersion blender, mix soup until smooth. You might need to add more liquid to get a soup consistency instead of a puree.
Add soy sauce & mix. Taste, adjust seasoning, serve hot.
Servings: 4 bowls (Approx.: 72 calories, 12 gr carbs, 3 gr fat, 2 gr protein each)