So what does one eat when it's too warm to cook? Something that requires little to no cooking. Today that was a pasta salad.
Pasta salad variation #1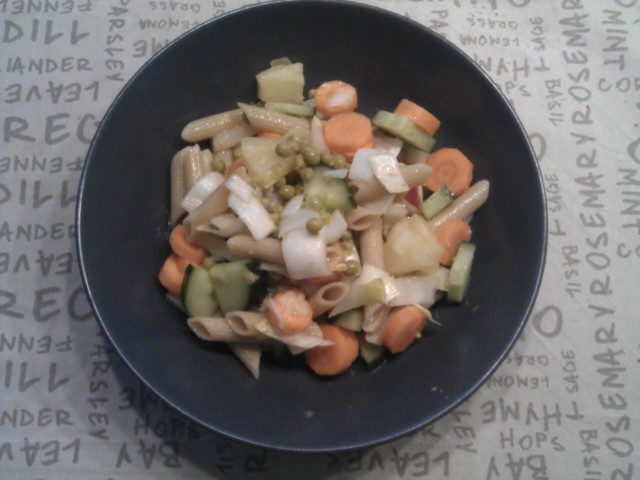 Ingredients:
For the salad:
125 gr whole wheat short pasta, such as penne rigatti
 1 endive (~150 gr)
4 slices of canned pineapple in juice (important this part, please)
160 gr cucumber (that's a piece about 15 cm)
1 small tin peas (~140 gr)
110 gr peeled white asparaguses
3 medium carrots (~140 gr)
100 gr cherry tomatoes (~6)
For the dressing:
4 tablespoons of pineapple juice (from the can above)
1 tablespoon lemon juice
1 rounded teaspoon honey (~20 gr)
2 tablespoons apple cider vinegar
1,5 tablespoons olive oil
pinch ginger powder
pinch salt
Make it:
Bring a pot of salted water to a boil and cook pasta according to package instructions, al dente. Drain and cool under running water. Put pasta in big salad bowl.
Peel carrots and cut in rounds. Cut endive in fourths lengthwise, then chop in pieces about 1cm thick.  Drain the pineapple (keep the juice!) and cut slices in eight pieces. Cut cucumber in four lengthwise and then in pieces 0.5cm thick. Cut cherry tomatoes in half. Drain and cut asparaguses in pieces about 3cm long. Drain and rinse peas. Add everything to the pasta.>Make the dressing: mix all ingredients in a small bowl until honey has dissolved.
Pour dressing over pasta salad, mix well, and let macerate for about 30 minutes before serving.
Servings: 2 servings as a main, 3-4 as a side dish.
Nutrition (based on 2 servings): 467 calories, 87 gr carbohydrates, 8 gr fat, 14 gr protein.
Note: you could serve this as a side, adding some protein like an omelette, a (veggie) burger, piece of grilled fish or meat for those not vegetarian.